Bermuda Dunes Real Estate
Located just north of La Quinta at the east end of the Coachella Valley, Bermuda Dunes is one of the lesser known desert cities. However, even though this city might not be well known, it's no secret. Bermuda Dunes has been a hotspot for Hollywood elites such as Rock Hudson, Debbie Reynolds, Clark Gable and Eddie Fisher since its inception.
Sorry we are experiencing system issues. Please try again.
Home to the exclusive Bermuda Dunes Country Club, the real estate market in this chic city is a mixture of single family homes and condos. Prices range from the high $100,000s to well over $2M.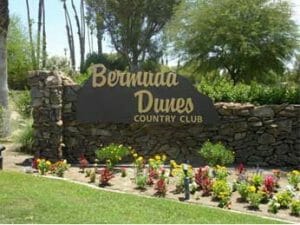 Bermuda Dunes is located in the Coachella Valley, a desert oasis between Palm Springs and Indio. The town is named after its 10-square-mile area of dunes, the largest non-national park sand dune system in California.
It's also been named one of the "Best Small Towns to Raise a Family" by LivingSocial and received an award for "America's Coolest Neighborhood."
Your Bermuda Dunes Area Real Estate Agent
If you're in the market to purchase a home or condo in the Bermuda Dunes area, contact me and let me help you navigate the various neighborhoods and HOAs in this desert city. I'll help you find the perfect Coachella Valley oasis.
Interested in selling your home or condo? Checkout our page on how to get a free home evaluation. Find out more about me and the Palm Springs area, visit my blog, or contact me directly.
More On This Desert Oasis
Bermuda Dunes offers a relaxing environment with many outdoor recreation opportunities including hiking trails, horseback riding through scenic mountainsides, and off-roading. The Coachella Valley Preserve provides over 65 miles of recreational trail mileage through canyons, desert valleys, mountains and across washes.
Golfing enthusiasts will appreciate that Bermuda Dunes has three courses to choose from: Cahuilla Creek Golf Club, the Southern Dunes Golf Club and the Bermuda Dunes Country Club.
Bermuda Dunes is also known for its thriving business community.
The town has revitalized many of its historic buildings into unique shops, restaurants, affordable housing complexes and small businesses. The Coachella Valley Art Scene includes several galleries which house original artwork from local artists and sculptors.
Many residents enjoy cultural events at the Indian Wells Tennis Garden or one of Bermuda Dunes' yearly festivals including: Cinco de Mayo, The Annual Taste of Bermuda Dunes, Fiesta Days, Fiestas Patrias.
Bermuda Dunes Weather
Bermuda Dunes sits at an elevation of 442feet. In the summer months Bermuda Dunes has a temperature range between 100°F to 117°F. There are warm days with very little rain or thunderstorms. Wind gusts up to 60 mph have been common around the sand dunes.
Due to its location near the Coachella Valley Mountains, precipitation is generally light with annual rainfall of about 10 inches. Bermuda Dunes does have winter. It gets cold at times with hail and other storms due to high pressure and winds coming from the north and south.
Fun Facts about Bermuda Dunes
When President Dwight Eisenhower first vacationed here, he was so impressed with Indian Wells that it became his winter residence.
Bermuda Dunes is named after a community of Bermuda cacti which once stood near the site of the first airstrip. The area was known as Bermuda Landing until Charles L. Gaskill developed it into a resort in 1938. He built the modern-day boundaries of Bermuda Dunes Country Club in 1946.
In 1981, an addition to the club known as "The Villas" was constructed and is now home to many permanent residents.
In 1939, Dr. Francis R. Lentz planted the first avocado tree in Bermuda Dunes. While there are many types of avocados still growing in the area, this particular tree and its descendants were lost during a freeze around 1983.
The area has long been popular among film makers for its scenery. Scenes from more than 100 movies have been filmed here since the 1940s. These range from classics like "Psycho," "Gone with The Wind," and Alfred Hitchcock's "Shadow of a Doubt," to more modern flicks like "The Sandlot," and "True Lies."
Bermuda Dunes is home to one of California's oldest Christian churches: The First Presbyterian Church of Bermuda Dunes. This building was originally erected as a school by Charles Gaskill and is included on the National Register of Historic Places.
In 1960, Indian Wells Country Club hosted the first Bob Hope Desert Classic.
Although The Living Desert Zoo and Botanical Gardens have their street address listed as Palm Desert, the park actually spans both cities.
Q: Is Bermuda Dunes a city?
Q: How far is Bermuda Dunes from Palm Springs?
Q: Is Bermuda Dunes safe?
Q: Who bought Bermuda Dunes Country Club?

Search for: Is Bermuda Dunes a city?"
A: "Bermuda Dunes is a census-designated area located in the Palm Springs area in Southern California. … As at the latest census, the population of Bermuda Dunes was over 7000. People generally dont know this, but, the city was formerly called Myoma. Access to Bermuda Dunes is possible through the Bermuda Dunes Airport.
Back to Top

Search for: How far is Bermuda Dunes from Palm Springs?"
A: "19 miles to be exact (about 30 minutes by auto)
Bermuda Dunes is located near Indio and 19 miles (31 km) east of Palm Springs.
Back to Top

Search for: Is Bermuda Dunes safe?"
A: "Bermuda Dunes is the safest area to live in the 7 cities in the Palm Springs Area and safer than over 30% of the cities in the United States. In Bermuda Dunes you have a 1 in 42 chance of becoming a victim of any crime. The number of total year over year crimes in Bermuda Dunes has decreased by 6%.
Back to Top

Search for: Who bought Bermuda Dunes Country Club?
A: "The Steele Canyon Golf Corporation is the latest acquisition of the Bermuda Dunes Country Club. The equity members have sold the club for the third time in the last 18 months and that a desert club membership has sold to an outside party.
Back to Top
Doing Well With Real Estate, Real Estate Investing
When you want to make sure that you are going to make a good amount of money on your investments, you will want to consider real estate investing. This will make you a lot of money in the future since you will be able to get the money that you need to live a great life and also save up for your later years. Imagine being able to do what you want to do when you want to.
You can do this when you are good at real estate investing. Here are some great ideas for you to do when you want to make a good amount of money when you are into real estate investing:
1. Buying A Foreclosed Home
You will want to look around for various foreclosed homes in your area or elsewhere. These homes are foreclosed because they cannot pay the bills on the home so make sure that you also check for the repairs that you might do when you invest in the unit.
You don't want to get something that will not work for you so take the time to look into it thoroughly so that you can make a great amount of money when you go to sell it.
2. Getting Great Property
If you want, you can also consider buying a property that is not built on. In the future, this property will be worth a lot of money when you decide to sell it. You can also decide to build on it and make it worth more money right away. It is all up to you so you should really make sure that you consider what you are doing before you decide to go ahead and make a purchase.
Land will be worth a lot of money in the future and it is a great investment to make.
3. Living In A New Home
You can also buy a new home that is in disrepair. When you are living in it, you can fix it up so that it is worth more money when you go to sell it. You will need to know what you are doing with repairs that need to be completed or hire someone to help you. Many people then sell the home for a profit and move elsewhere. They keep doing this to make a profit on the homes that they purchase and fix up for sale.
Since you will want to make sure that you really do your homework, be prepared to learn as much as you can when you are going into real estate investing. It will make a difference if you know what you are doing. As you become better at what you do with your real estate investment choices, you will see that you can make a lot of money.
For many people, this is the way that they become wealthy and you can too. Be sure that you consider it when you want to make sure that your investments will pay off in the future.