Palm Desert Real Estate
One of the largest cities in the Coachella Valley, Palm Desert offers residents and visitors an endless amount of activities and amenities to satisfy the most discerning tastes. So, if you're looking for high end shopping and world class golfing, Palm Desert is the place for you.
Sorry we are experiencing system issues. Please try again.
Palm Desert is centrally located between Palm Springs and La Quinta in the Coachella Valley. It's a great place for those who want to be able to have access to high-end shopping and world-class golfing.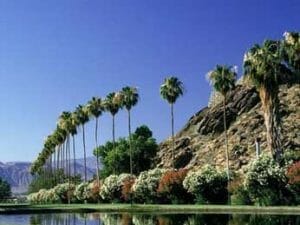 Palm Desert has some of the best real estate in the Coachella Valley and offers a mixture of homes and condos in gated communities and beautiful non-gated neighborhoods.
Palm Desert is a unique destination that offers all the comforts and conveniences of a major metropolitan area in addition to pristine natural surroundings.
Your Palm Desert Real Estate Agent
If you're in the market to purchase a home or condo in the Palm Desert area, contact me and let me help you navigate the various neighborhoods and HOAs in this desert city. I'll help you find the perfect Coachella Valley oasis.
Interested in selling your home or condo? Checkout our page on how to get a free home evaluation. Find out more about me and the Palm Springs area, visit my blog, or contact me directly.
Places of Interest/Events in Palm Desert
Palm Desert is a great place for families. There are several children's playgrounds and family parks such as the Riverside County Regional Park, Johnson Ranch Community Park and La Quinta Sports Park. The Southridge Sports Complex boasts 12 tennis courts, 2 basketball courts and 8 volleyball courts.
Palm Desert offers nature lovers the chance to get out and enjoy the Mojave Desert in a recreational setting. Many of the area parks include walking paths, picnic areas and outdoor grills. There are also several hiking trails that travel through Palm Desert which meander past Santa Rosa Lake Park, Parker Dam Recreation Area, Lost Horse and Salton Sea State Park.
In addition to the many recreation areas, Palm Desert holds a variety of events throughout the year like the annual Bird Festival. Every March, the festival offers informative seminars on birds and bird- watching as well as guided nature walks and field trips. Other festivals include Art in the Park, Pow Wow and the Palm Desert Christmas Tree Lighting.
Fun Facts about Palm Desert
The city got its official name in 1947 from a young post office worker who thought the name Palm City was too common and wanted to rename it after his home town of Desert City, Arizona.
Palm Desert was used as a filming location for the movie Memento, starring Guy Pearce. The DVD copy mistakenly lists San Dimas, California as the city where this movie was filmed.
In 2010, former comedian and Senator Al Franken had dinner at an upscale restaurant in Palm Desert.
The waiter did not know who he was and had to ask another employee for identification before serving the senator his meal.
Actor Michael J. Fox purchased a house in Palm Desert for $1.675 million dollars in 2008 after first renting from 2002 to 2004. His wife, Tracy Pollan, also had a house in Palm Desert.
In 2013, actor Brad Pitt purchased a new ranch-style home on 4 acres of land for $3 million while filming the movie Fury.
The star of this film, Shia LaBeouf was also interviewed by the New York Times while staying at the Parker Palm Springs hotel in 2014.
In 2017, the Hot Air Balloon fiesta took place over a two-week long period. This event is the largest of its kind in North America and one of the largest in the world with an average of about 100,000 visitors per day during this festival. The invention of this hot air balloon festival has roots in the Coachella Valley back to the mid-1980s.
In 2017, Jimmy Fallon purchased a new home in Palm Desert for $2 million dollars and announced that he would be hosting his Tonight Show from this city. Fallon replaced Jay Leno as host. Leno was recently inducted into The Television Academy Hall of Fame.
Palm Desert Weather
Very rarely, the Coachella Valley experiences a snowfall on mountain peaks from a phenomenon called Pineapple Express. This is where the Hawaiian islands' high moisture content flows to the west and brings an abundance of precipitation to the Greater Palm Springs Area. The last recorded snow fall was on January 2, 1982, when some snow fell with temperatures in the low 50's.
It does rain in the desert. The highest rain total that occurred in one day was 10.19 inches on September 24, 1980. The second was 8.55 inches on November 23, 2004, and the most recently recorded record rainfall of 6.03 inches occurred January 18-19, 2007, when a Pineapple Express weather pattern hit the valley bringing some rain as well as warmth to the desert wintertime climate.
The average high temperature during the day is about 85-90 degrees (F). The highest temperature ever recorded was 123 Fahrenheit degrees on July 29, 1995. It gets cold at night, down to 40 (F) and sometimes even 20 (F) degrees. Most nights are at least 10 degrees cooler than what it was during the day.
Palm Desert has a hot, arid climate with four seasons. The average annual temperature is 67 °F or 19 °C. The average yearly rainfall amount is about 4-5 inches, or 10 cm, but it can go as high as 9 inches during a rainy season.
Q: Is Palm Desert a nice place to live?
Q: What is Palm Desert known for?
Q: How hot does it get in Palm Desert?
Q: What is there to do in Palm Desert today?
Q: Does it rain in Palm Desert?

Search for: Is Palm Desert a nice place to live?"
A: "Palm Desert is an ideal place to raise a family. There are tons of nice parks and lots of recreational sports you can sign kids up for. There are a lot of gate community and low crime rate. It is sun 90% of the year and it's a developing area.
Search for: Is Palm Desert a nice place to live?"
Back to Top

Search for: What is Palm Desert known for?"
A: "The City of Palm Desert, California, incorporated November 26, 1973, is centered in the heart of the Coachella Valley. Palm Desert is known as the cultural and retail center of the desert communities. … The City of Palm Desert, California is rated one of the safest cities in Southern California.
Search for: What is Palm Desert known for?"
Back to Top

Search for: How hot does it get in Palm Desert?"
A: "In Palm Desert, the summers are sweltering and arid, the winters are cool, and it is mostly clear year round. Over the course of the year, the temperature typically varies from 44°F to 107°F and is rarely below 36°F or above 113°F."
Back to Top

Search for: What is there to do in Palm Desert today?"
A: "Top Attractions in Palm Desert.
The Living Desert Zoo and Gardens. … Bump and Grind Trail. … El Paseo Shopping District. … Palm Springs Art Museum in Palm Desert. … McCallum Theatre for the Performing Arts. … Santa Rosa & San Jacinto Mountains National Monument Visitor Center. … The Street Fair at College of the Desert. And many more…"
Back to Top

Search for: Does it rain in Palm Desert?"
A: "Palm Desert, California gets 5 inches of rain, on average, per year. The US average is 38 inches of rain per year."
Back to Top
Palm Desert Demographics
The demographics for Palm Desert show a predominantly white population that has grown over the years. The city was very popular in the 1970s and 1980s for retirees, with a population of more than 25,000 people. As of 2009,
Caucasians make up 80% of the population (there is an estimated 10,000-15,000 retiree residents). There are also quite a few Hispanic/Latino people who have high population densities in the North and South regions of the city.
Additionally, there are an estimated 2,000-5,000 Asian people living here as well.
Palm Desert is a hot spot for retirees who live here year round. The average resident age today is 62 years old (up from 54 in 2000), with the most populous age group being those who are between 50-64 years old.
People living here tend to have higher income levels. Another large population of people work for the government, with a variety of jobs ranging from police officers to postal workers. The education level of the residents is significantly higher than average, as over a third of the population has an educational degree or passed at least some college courses.
A large number (about half) of all households in this city are made up of families with children under 18 years old. The percentage of people who live alone is 29%, and the average household size is 2.3 people. In terms of race, 71% are white, 11% are Black or African American, 10% are Asian, and 5% are from other races or mixed races.