Rancho Mirage Real Estate
Known as the desert's bedroom community, Rancho Mirage is one of the least populated cities in the Coachella Valley.
It's also one of the wealthiest. Gated communities are plentiful in this upscale enclave, while older, mid-century neighborhoods like Magnesia Falls Cove offer gate-free living surrounded by desert vistas. Rancho Mirage real estate offers something for everyone.
Sorry we are experiencing system issues. Please try again.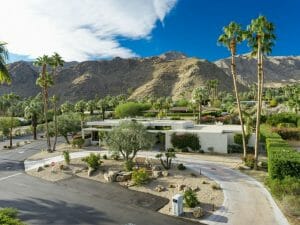 Rancho Mirage hosts an annual Elvis Festival every August. It boasts frequent star sightings from such celebrities as Eva Longoria Parker and Greg Louganis.
It has been called "Riviera de las Palmas" or "Palm Springs of the Desert" by its founders Howard, Stella, and Jake Rosenblatt.
Your Rancho Mirage Area Real Estate Agent
If you're in the market to purchase a home or condo in the Rancho Mirage area, contact me and let me help you navigate the various neighborhoods and HOAs in this desert city. I'll help you find the perfect Coachella Valley oasis.
Interested in selling your home or condo? Checkout our page on how to get a free home evaluation.  Find out more about me and the Palm Springs area, visit my blog, or contact me directly
Where Is Rancho Mirage?
Located in the middle of the Coachella Valley, Rancho Mirage is a great location for those who like the shopping on Palm Desert's El Paseo shopping district and the design-centered focus of Palm Springs. It's part of both Riverside County and San Diego County.
Rancho Mirage is bordered by the Colorado River to the north, Bermuda Dunes to the east, La Quinta to the south and Palm Desert to the west. The total area occupied by Rancho Mirage is 6 square miles which is made up of 1.6 square miles of land and 4.4 square miles of water.
It's also home to the Eisenhower Medical Center, which is the largest healthcare provider in the valley.
The city houses many world-class golf courses such as the one at the Thunderbird Country Club, which was co-designed by Jack Nicklaus. The prestigious Bob Hope Classic has been played since 1962 at the Eisenhower Park Golf Course.
Other notable courses are the Quail Lodge Country Club and Shadow Mountain Community Church – a par-3 executive course.
Its slow speed limit (35 mph) and protective crossing guards make it an attractive option for families with children. Rancho Mirage's wide streets are lined with large, mature trees that provide shade from the desert sun.
Places of Interest/Events in Rancho Mirage
Thunderbird School of Global Management is a prestigious business school that has educated many leaders around the globe, including some Arab royalty.
Rancho Mirage Concours d'Elegance is an upscale car show featuring European vehicles that takes place every February in Rancho Mirage.
Palm Springs Invitational, another prestigious car show hosted in November, brings some of the most expensive cars on display in one location.
The area attracts art collectors and there are multiple museums such as the Annenberg Space for Photography to view various works of art.
The city is also a popular location for golfing; it hosts two PGA Tour events each year. The Bob Hope Chrysler Classic at the famed Indian Wells Golf Course, and the Frank Sinatra Invitational on 25 holes of the Rancho Mirage Country Club.
Cheyenne Mountain Resort is another major attraction featuring a world-class ski resort with famous mountain peaks such as San Jacinto Peak and Mount San Gorgonio. Peaks shine over the resort from more than one direction.
Q: Where in California is Rancho Mirage?
Q: What is Rancho Mirage known for?
Q: Is Rancho Mirage a good place to live?
Q: How far is Rancho Mirage from Palm Springs?
Q: How many golf courses are in Rancho Mirage?

Search for: Where in California is Rancho Mirage?
A: "Palm Springs Valley.
Rancho Mirage is located in the center of Southern California's rapidly growing Palm Springs Valley, strategically situated in Riverside County, one of the fastest growing counties in the country, 110 miles east of Los Angeles, 110 miles northeast of San Diego, and approximately 270 miles west of Phoenix. May 17, 2019"
Back to Top

Search for: What is Rancho Mirage known for?
A: "Recognized for its elegant ambience and unique luxury lifestyle, Rancho Mirage is known for its exclusive gated communities, beautiful golf courses, and superb tennis facilities. … Rancho Mirage boasts world-class resorts, including the Valley's only five-star lodging property, The Ritz-Carlton."
Back to Top

Search for: Is Rancho Mirage a good place to live?
A: "Rancho Mirage is an outstanding destination for long-term residents and seasonal visitors. It has a wealth of history, shared by the wider Palm Springs area, as well as luxuriant ease for its dwellers. Rancho Mirage is a clean upper class beautiful city in the Coachella valley."
Back to Top

Search for: How far is Rancho Mirage from Palm Springs?
A: "10 miles.
The distance between Palm Springs and Rancho Mirage is 10 miles. The road distance is 11.5 miles. Dec 14, 2020"
Back to Top

Search for: How many golf courses are in Rancho Mirage?
A: "17 golf courses.
Rancho Mirage, California Golf Courses There are 17 golf courses in Rancho Mirage, California and 0 are municipal courses. There are also another 83 golf courses within 20 miles of Rancho Mirage, including 33 public, 6 municipal and 44 private courses."
Back to Top
Rancho Mirage Weather
Rancho Mirage has a desert climate with an average of 300 sunny days and only 25 inches (64 cm) of rain per year. This arid climate means that the humidity is low, making for comfortable temperatures throughout the year. The winter months are warm to mild, while the summer brings hot days with cool nights.
Temperatures for the winter months average in the high 60s (15 °C) and drop to an average of 55 (12 °C) at night. During the summer, temperatures can reach over 100 degrees on many days, but evening lows are normally in the 70s (25 °C), with a record low of 23 degrees Fahrenheit ( −5 °C).
Dust storms occur occasionally, particularly in the months of March and April. The desert environment means that there is little rain to wash away dust from the dry lake beds, so it accumulates around the city, causing a hazy sky over the entire valley for days at a time (usually followed by clearing after a rain).
Rancho Mirage Demographics
The city is made up almost entirely of retirees or people whose life-style doesn't include full time work. People in Rancho Mirage spend most of their time golfing, relaxing or visiting/hosting friends and family.
Many residents relocated from the East coast due to mild weather year-round. Many are "snowbirds" who pay dearly to escape cold winters for six months out of each year.
Residents enjoy a low cost of living and excellent quality of life due to very low crime rates, excellent schools and high property values.