La Quinta Real Estate
At the east end of the Coachella Valley and surrounded by the Santa Rosa Mountains, La Quinta offers residents and visitors world-class resorts and golf courses in a setting of unparalleled beauty. From vast estates to price conscious condos, the La Quinta real estate market has something for everyone.
Sorry we are experiencing system issues. Please try again.
The City of La Quinta is a desert resort at the base of the beautiful Santa Rosa Mountains in southwestern Riverside County. The city has become extremely popular as a year-round home for those relocating to southern California from colder climates or nearby urban communities.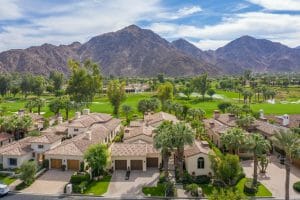 The city has found an ideal balance between providing residents metropolitan amenities and small-town community benefits while maintaining its peaceful desert ambiance.
Your La Quinta Area Real Estate Agent
If you're in the market to purchase a home or condo in the La Quinta area, contact me and let me help you navigate the various neighborhoods and HOAs in this desert city. I'll help you find the perfect Coachella Valley oasis.
Interested in selling your home or condo? Checkout our page on how to get a free home evaluation. Find out more about me and the Palm Springs area, visit my blog, or contact me directly.
Q: How far is Palm Springs from La Quinta?
Q: What is La Quinta known for?
Q: Is La Quinta California a good place to live?
Q: What is there to do in La Quinta at night?
Q: How far is La Quinta from LA?
Fun Facts about La Quinta
The city of La Quinta was established in 1904 after George Tibbetts bought 200 acres and hired architect Len Everett to build him a ranch house. The town now covers more than 140 square miles with over 60 miles of roads and 75 miles of irrigation canals.
With its extensive underground aquifer system, it is no wonder that this desert city features lush golf courses, botanical gardens, two lakes, natural springs, countless palm trees, and spectacular waterfalls.
La Quinta has become famous for hosting five U.S. presidents either on vacation or for political conferences. The presidents that have visited the city include Dwight D. Eisenhower, Gerald Ford, Ronald Reagan, George H.W. Bush, and Bill Clinton.
La Quinta has long been a favorite destination for movie producers all over Hollywood because of its rare combination of scenic beauty and easy access to many major cities (Los Angeles is just 60 miles away). Stars such as Marilyn Monroe, Clark Gable and Cary Grant have visited the city for film shoots.
Movies filmed here include "Nightcrawler" starring Jake Gyllenhall, "The Blob," "Appaloosa" and "Race to Witch Mountain." Television shows include "Breaking Bad," "Dexter," and "American Horror Story."
More On This Desert Oasis
La Quinta real estate offers wonderful opportunities in some of the least expensive real estate markets on the West Coast. It features highly desirable neighborhoods and homes surrounded by mountains, hills, canyons and ridges.
Buyers will find many properties located on golf courses and waterfronts throughout the city which provide peaceful locations to enjoy serene mountain views, swimming pools and tennis courts.
With its diverse neighborhoods offering luxury living options as well as more affordable homes, it is no wonder so many are relocating from nearby urban communities to enjoy all the benefits of living in La Quinta.
If you are looking for your own home in La Quinta, take the time to explore all the area has to offer. It truly is a one-of-a-kind desert oasis which provides residents with beautiful surroundings, excellent educational institutions and diverse year-round activities.

Search for: How far is Palm Springs from La Quinta?
A: "17.75 miles.
There are 17.75 miles from Palm Springs to La Quinta in southeast direction and 25 miles (40.23 kilometers) by car, following the I-10 E route. Palm Springs and La Quinta are 33 minutes far apart, if you drive non-stop."
Back to Top

Search for: What is La Quinta known for?
A: "The city is known for arts and culture, natural beauty, and an Old World atmosphere with a distinctly 21st century focus on health and wellness. West golf complex in La Quinta. La Quinta has more than 212 acres of parkland area. Aug 25, 2011"
Back to Top

Search for: Is La Quinta California a good place to live?
A: "Overall, it's a great place to live, very quiet (depending on your neighborhood) and very rural. So much to do and so many ways to have fun! La quinta is a very quiet and safe place to life."
Back to Top

Search for: What is there to do in La Quinta at night?
A: "Best fun things to do on date night near La Quinta, CA 92253
The Date Shed. 2.7 mi. 6 reviews. …
Marvyn's Magic Theater. 3.6 mi. …
Century La Quinta and XD. 2.6 mi. …
La Quinta Brewing Co Old Town Taproom & Grill. 1.9 mi. …
Jackalope Ranch. 3.4 mi. …
Indio International Tamale Festival. 5.2 mi. …
The Nest. 6.0 mi. …
Paint Sip & Inspire. 7.8 mi.
And many more."
Back to Top

Search for: How far is La Quinta from LA?
A: "The distance between Los Angeles and La Quinta is 115 miles. The road distance is 129.6 miles. Dec 14, 2020"
Back to Top
La Quinta Weather
La Quinta is known for its sunny weather – the city averages 2,070 hours of sunshine a year. La Quinta has a mild desert climate with an average daily high temperature in January of 61 degrees Fahrenheit [16.1 °C] and an average low temperature in July of 87 degrees Fahrenheit [30.6 °C].
Mild winters and hot summers characterize this weather with low amounts of rain year-round. The average annual rainfall is only 4.5 inches (114 mm) per year. Temperatures are also very hot for most of the year, although nighttime lows often plummet below 55 °F (13 °C). At night or during winter, temperatures sometimes drop into the 40s (4-7 °C). But on most days from late October to June, daytime highs reach 72–84 F (22 – 29 C) setting a comfortable climate for playing golf or tennis outdoors all day long during spring and summer.
La Quinta Golf Courses
The La Quinta area is a paradise for golfers. There are more than 23 golf courses in the Coachella Valley, which attract the world's best players.
The Legends at La Quinta golf course has a total length of 7,004 yards from the longest tees, and a par of 72. The Legends uses Bermuda grass greens and Bermuda fairways. It was redesigned by golf course architect Ted Robinson. Hole number three which measures 389 yards from the blue tees creates a challenge.
You'll face a difficult tee shot to start, then have to contend with a downhill second shot that requires extreme accuracy off the tee. A good drive should leave you with a short iron, but an errant tee shot or inaccuracy will leave you in the fairway bunkers.
The Regatta Course at La Quinta has been around for over fifty years. It has an average rating of 71 from the blue tees and a par of 70. This is an extremely challenging course that winds its way through the beautiful foothills. The Regatta will give you a chance to enjoy spectacular views of the surrounding mountains and city of La Quinta.
The Coyote Run Golf Course features 6,746 yards from the longest tees. It has a par of 72 and a slope rating of 122. The Coyote Run Golf Course offers several unique challenges, such as the large sand bunker positioned in front of the green on hole number seventeen. This hole is also raised higher than the rest of the course. You'll get a beautiful view of the surrounding mountains.
The Cadillac Course has two par five holes that are really worth playing. Hole number ten is listed as one of the most difficult on the course, measuring 552 yards. It's uphill tee shot will certainly test your distance off the tee and ability to hit a high, soft landing shot. The uphill approach shot to the green is also very difficult and requires pinpoint accuracy
Places of Interest/Events in La Quinta
The Riverside County Museum has many artifacts related to the history of La Quinta and Coachella Valley. It offers guided tours and classes for children.
La Quinta Cove is an open community park that includes walking paths, picnic areas, and tennis courts. There are multiple small pools, a giant pool with a water slide and a lap pool with various depths. All pools have lifeguards present at all times. This facility was originally built in 1960 as an Olympic training site for U.S. Swimmers.
Established in 1967, La Quinta Cove is the oldest aquatic facility in Coachella Valley. In 2007 the facility was renovated and expanded to include new water slides. In addition to being a popular destination for local residents, La Quinta Cove is used by visiting swimmers for training programs with professional swimming coaches or college swim teams.
Recently, former Los Angeles Lakers basketball star Kobe Bryant trained here for the Olympics as did former track star Marion Jones when she was in town to participate in (and win) a local road running event.
The La Quinta Cove Campground is located directly behind the pool. It's operated and maintained by the City's Parks Department with assistance from campers and community members. This facility opened in 1967 as a seasonal family park and has grown into one of Riverside County's largest camping facilities.
It now includes an RV park with full hookups for self-contained motorhomes, tent sites, cabins for rent, bicycle, boat, board (surf/body) and motorcycle storage areas, a playground for children and public restrooms.
The La Quinta Cove Aquatic Center operates year-round (closed only on Christmas Day) from 9 am to 9 pm during summer months (seasonal hours vary between May–September). During the winter season it is open weekends only.
Admission prices are comparable to that of a local movie theater or YMCA in nearby Palm Springs. Season swimming passes include parking, pool parties, group exercise classes, rental of tables, chairs, chaise lounges, umbrellas and cabanas along both sides of the diving well.