Search

by
Property Type
Sometimes it's best to get a look at the market from 30,000 feet, and then dive in.
---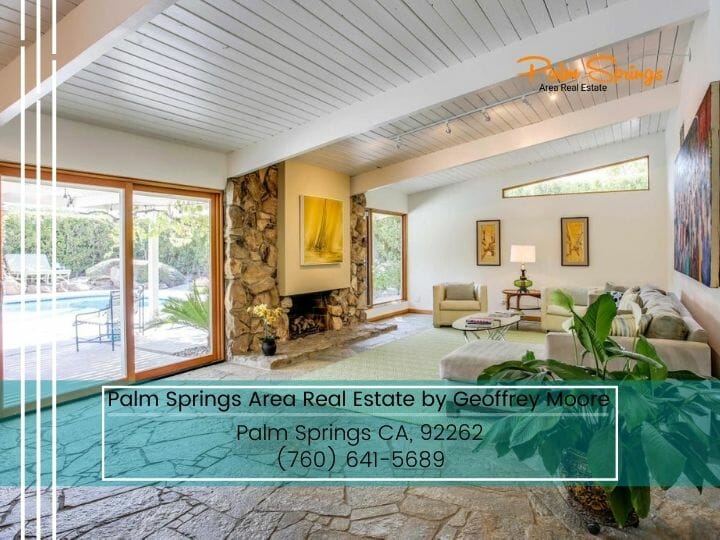 House Styles in Palm Springs
Palm Springs and its surrounding cities boast some of the most diverse and beautiful architecture in California. It has an abundance of mid-century homes, giving it a vintage feel with a modern flair. You might think that means cookie-cutter houses without much character, but in fact, the opposite is true.
Palm Springs has a lot of different styles of houses, each of which is unique. 
Many architects found themselves drawn to Palm Springs through each period of its development. The city and its surrounding areas have an atmosphere that's truly unique, from early and revival styles to post-WWII modern styles and even minimalist home styles.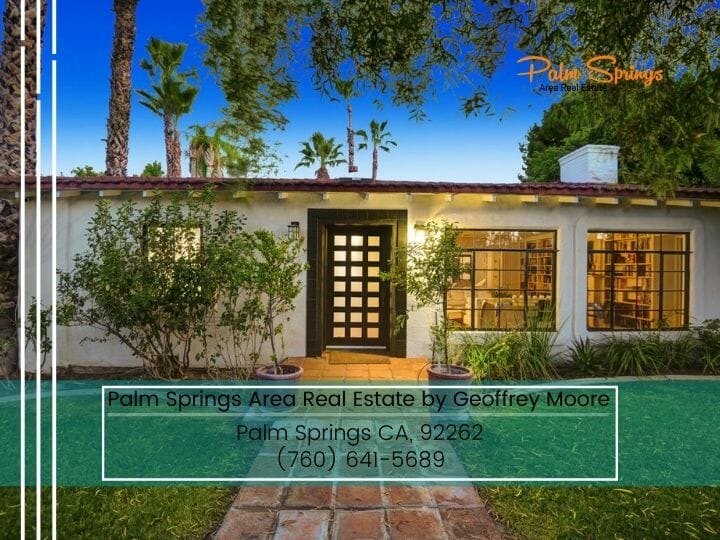 Palm Springs Architecture
Palm Springs' predominant house style is mid-century modern. However, even among this style, houses have vastly different looks with sloped roofs, flat roofs, angular or minimalistic construction, and, of course, the massive variety of colors for which many Florida communities are known. 
Many other styles exist in Palm Springs as well. However, every one of these home styles shares characteristics with others in ways that may surprise you. Below are some of the most common house styles you'll find in Palm Springs and its surrounding cities.
Mid-Century Home Styles
Mid-century homes dot the Palm Springs landscape. Many of these homes' angular roofs have a single slope instead of the sloped roofs you'll find farther north in snow country. Others have flat roofs, giving the houses their sleek, simple style.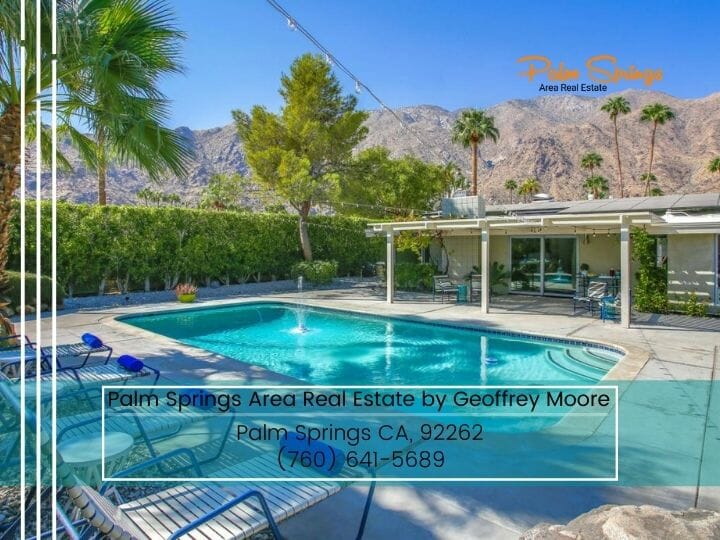 Add splashes of bright colors and open garages, and you have the home styles that give Palm Springs much of its character. 
Spanish Colonial Home Styles
Since the Spanish settled Florida, Spanish home styles are and remain popular there. These houses feature asymmetric front facades, gabled or flat roofs with Spanish tile, and irregular plans.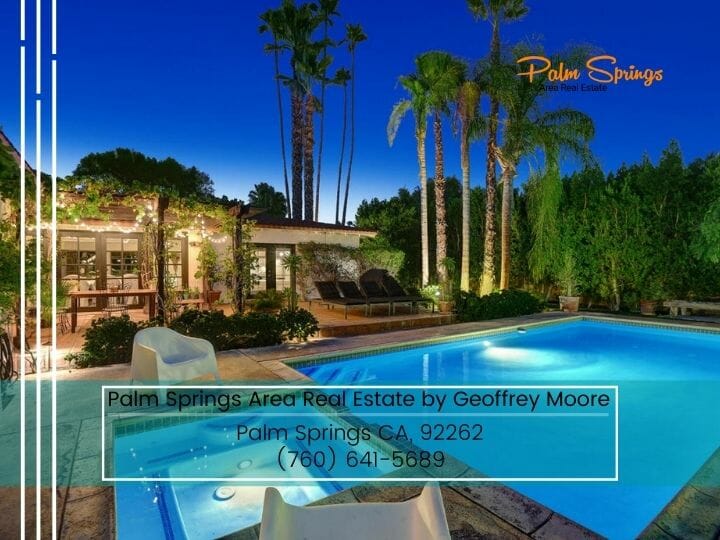 Also, many of these homes have arches that are round, pointed, or parabolic, along with balconies or towers, or both. You can easily tell the difference between these homes and the Tudor and Victorian homes of the northern U.S., which have many similarities, because of their other features.
You'll find stucco or plaster exteriors instead of brick or some type of clapboard siding, which completes the Spanish look of these homes. Some of them look like they're straight out of the Southwestern U.S. and Latin America, which the Spanish also settled. 
Ranch Styles
Ranch home styles have a single floor and tend to be long with a narrow appearance. They're also low and have a rectangular or L-shaped plan. This is the home-style that dominated mid-century home building around the country, not just in Palm Springs. The whole idea is informality with grace, outdoor living, and having groups of people over.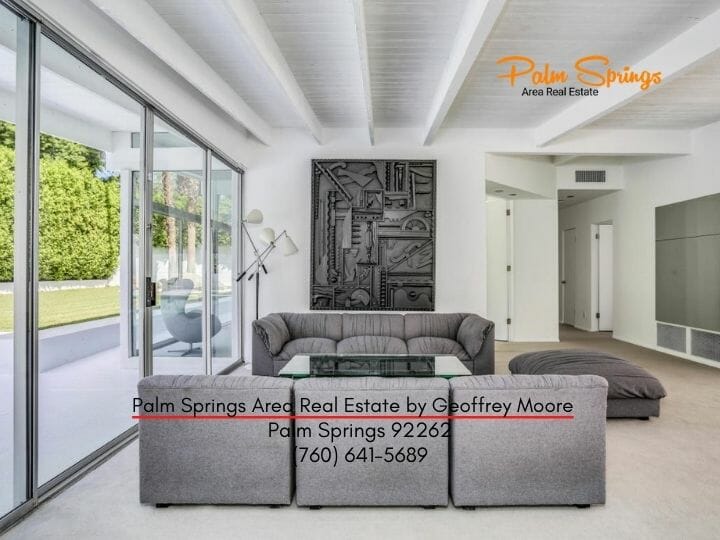 These houses have long covered porches with wooden batting, clapboard or plaster exteriors, and low-pitched roofs with eaves that overhang the house. They also sometimes have prominent chimneys.
Revivals
You'll find several different types of revival styles in Palm Springs. Revival styles take historic building styles, modernize them, and bring them into present times. 
Mediterranean Revival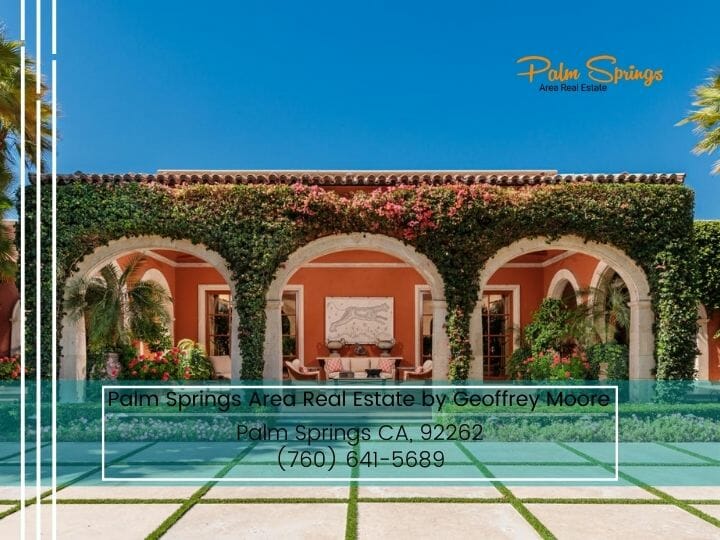 Mediterranean revival home styles take their elements from Spain, southern France, Italy, and elsewhere across the Mediterranean. They have Palladian windows, Spanish tiles, and other unique accents that differentiate this home-style from others. 
Monterey Colonial Revival
These houses take their cues from California during the 1830s and 1840s. The name gives away where this style originated: Monterey, California. Settlers in Florida in the 1920s wanted to hold onto this style as a way to honor Spanish heritage.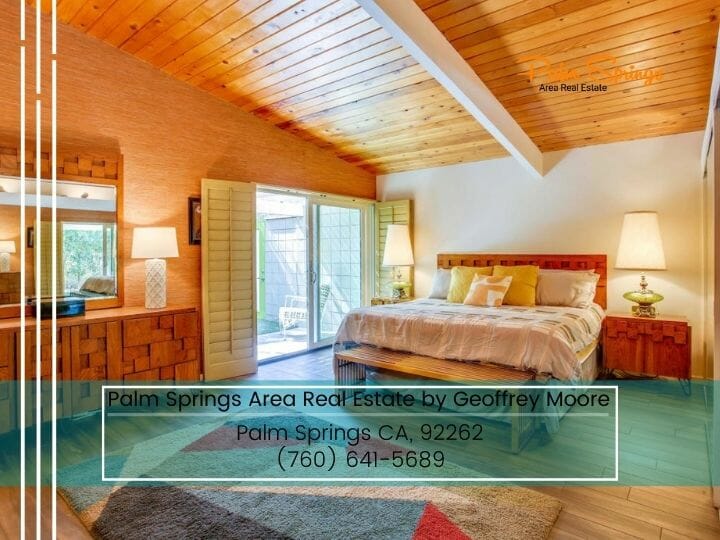 These have wood-paneled doors, gabled or hipped roofs, and second-story balconies in many cases. You might feel like you're in the desert southwest when you see these houses.
Pueblo Revival
The Pueblo Revival style takes its name from the pueblos of California and southern Arizona.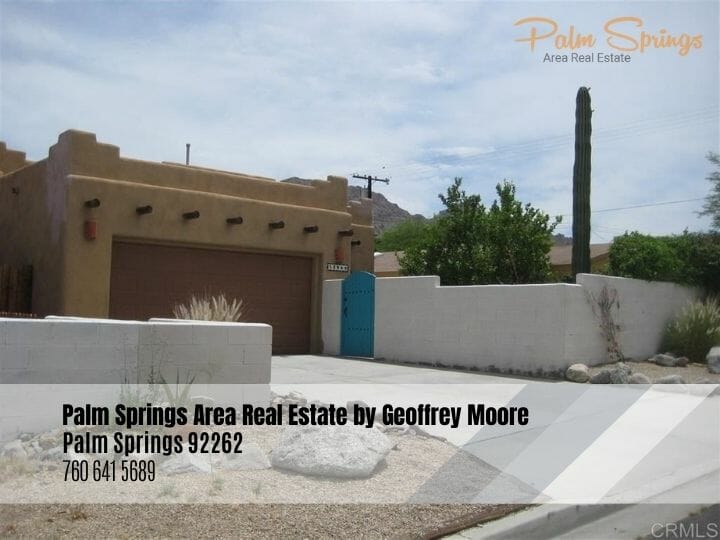 They're built in such a way that they look like the old adobe houses of early Spanish settlements in those parts of the country, and they closely mimic Mission Revival houses. Both draw on indigenous and Spanish designs to create their look.
Minimal Traditional
If you like minimalism, you might enjoy Palm Springs' minimal traditional houses. Like ranch houses, they have a low, rectangular shape, but they're smaller and more likely to have stucco exteriors.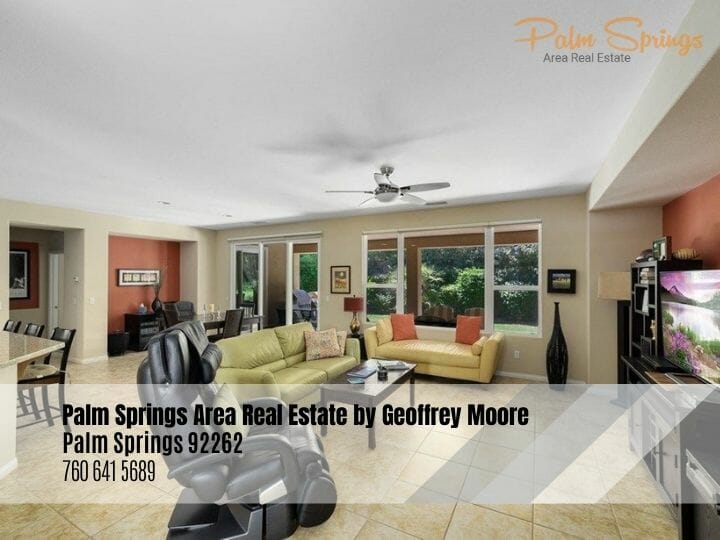 They also have multi-light windows, wood shutters, and simple, shallow entry porches.
These house styles don't have much in the way of exterior bells and whistles. They keep things nice and neat with as few extraneous design features as possible in true minimalist style.
Residential Vernacular Home Styles
The term "residential vernacular" describes several different house styles that are all simple and utilitarian, without the bells and whistles (and complications) of more complex construction. Palm Springs has many residential vernacular homes made of different materials.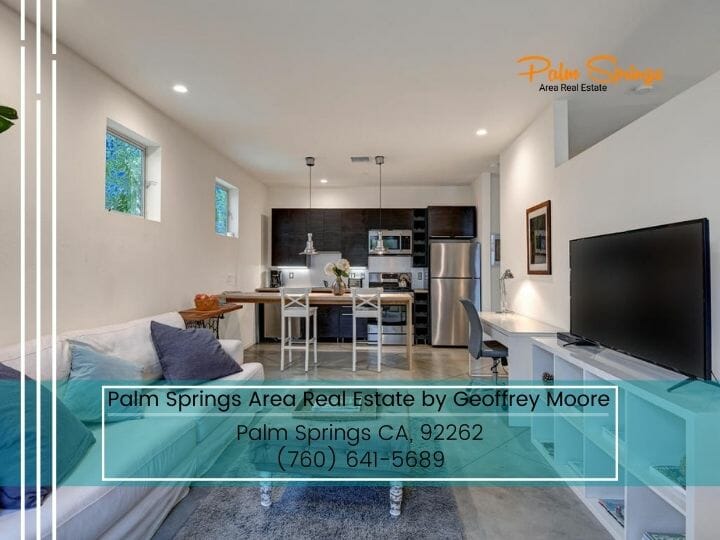 Many of the first buildings erected in Palm Springs used locally-sourced materials, and some even used recycled materials from previous buildings. However, those buildings are rare and difficult to find. 
These homes tend to have gabled roofs and a simple square or rectangular shape with a wooden exterior and simple trim around doors and windows. Attractive in their own way, these houses make great homes for those who don't want a lot of extras.
Organic Architecture
Frank Lloyd Wright, the architect famous for impossibly unique buildings, called his work organic, which means he designed houses to work with the environment rather than remake it in the houses' images. There are some house styles in Palm Springs that fit that description because they do the same thing.

These homes have features specifically built so that every shape has a specific function. They tend to have geometric and natural shapes woven throughout their construction. It is, in essence, blending buildings with nature. If nothing else, these houses may be more environmentally friendly than others you can find in Palm Springs. 
Final Thoughts
Looking for houses in Palm Springs, or maybe just want to see what they have? Palm Springs is home to house styles that are quite different from one another. 
You don't have to be looking for a house to enjoy the wide variety of home styles present in Palms Springs. You can just walk or drive around and enjoy them. If you are, though, take a look at each style to discover which one will work best for you.
A Guide To The Hacienda Style Homes Found In Palm Springs, Florida
The hacienda-style residences that dot the Palms Springs landscape in Florida have a rich and colorful history that can be traced back to Spanish and Mexican immigrants who first settled in the area between 1600-1800. When translated from Spanish, the term 'hacienda' literally means estate. As the literal meaning suggests, hacienda-style homes tend to exemplify opulence and a huge living space. This article will discuss the main identifying marks of these homes, common features found in these properties and the average price range of hacienda-style properties in Palm Springs, Florida.

How Can Identify Hacienda-Style Homes?
The earliest Spanish and Mexican settlers who built the first hacienda-style homes in the United States chose areas like Palm Springs that are blessed with a warm climate since their average annual temperatures resembled those from their original hometowns. These settlers then went ahead to actualize architectural designs that were common to Spain and Mexico. As a result, most hacienda-style homes across the United States tend to follow external architectural styles that are native to the settlers' countries of origin. Some of the architectural elements common to hacienda-style homes in Palm Springs include:
• Exterior walls made of white stucco
• Ceilings that are supported by wooden beams
• Archways that are commonly found at the entrance of the building
• Small windows designed to minimize the entry of excessive heat
• Red clay tiles for roofing
What Are Some Of The Most Common Features In Hacienda-Style Homes?
Hacienda-style properties tend to take up more square feet compared to other types of buildings in Palm Springs. In today's property markets, most of these properties fall under the luxury homes category. Because of their huge sizes, you can expect that a typical hacienda-style residence will have the following features:
• A courtyard
• A swimming pool
• Several bedrooms
• Several bathrooms
• A kitchenette
• External hardscape features such as a patio, pergola or deck
Though most hacienda-style homes in Florida retain their original architectural design, it is worth mentioning that many homes have received internal and external modifications to suit the personal tastes of successive owners since they were originally constructed. Today, you may find homes that blend the original hacienda-style architectural styles and an internal décor look and feel that is modern and contemporary.
What Is The Cost Of a Hacienda-Style Home In Palm Springs?
Palm Springs has one of the most dynamic property markets across the entire State of Florida. The cost of hacienda-style properties in this area therefore tends to vary. The cost of this type of home may depend on several factors including:
• The neighborhood where the home is located
• The external architectural style of the property you want as well as interior decor and fittings
• The number of rooms available
• The amenities available in the residence
• The season you are looking to purchase the home
• The overall square footage on which the property lies
On average, you should set aside several million dollars if you are keen on owning a hacienda-style residence in Palm Springs. To explore the wide range of hacienda-style properties available across Florida, the features of available homes and the current real estate prices you can visit www.palmspringsarea.realestate/house-styles/hacienda-style-homes/.
Sorry we are experiencing system issues. Please try again.