Cathedral City Real Estate
Just across the Whitewater Wash from Palm Springs, Cathedral City offers more affordable housing than Palm Springs while only being a few more minutes from everything Palm Springs has to offer. Single family homes can be found in a variety of styles, sizes and price points.
Sorry we are experiencing system issues. Please try again.
Prices in general are significantly lower than comparable properties in Palm Springs and buyers will get a lot more for their money buying in this adjacent community.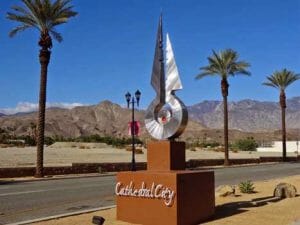 With booming business and new residents, developers decided it would be best to rename this village Cathedral City. The name leads most tourists to believe that there must be a cathedral nearby, but there isn't.
Though this figure has been slowly increasing over the years as more people move to Cathedral City for its rural atmosphere.
Your Cathedral City Real Estate Agent
If you're in the market to purchase a home or condo in the Cathedral City area, contact me and let me help you navigate the various neighborhoods and HOAs in this desert city. I'll help you find the perfect Coachella Valley oasis.
Interested in selling your home or condo? Checkout our page on how to get a free home evaluation. Find out more about me and the Palm Springs area, visit my blog, or contact me directly.
Q: How far is Palm Springs from Cathedral City?
Q: Why is Cathedral City called Cathedral City?
Q: Is Cathedral City Safe?
Q: How far is Cathedral from Los Angeles?
Q: What is the population of Cathedral City?
Fun Facts about Cathedral City
Cathedral City lies in the Coachella Valley on Interstate 10 between Indio and Palm Springs. It is one of the oldest cities in the Coachella Valley (the newest municipality being Indio). It began as a housing subdivision in 1912 but was not named until 1918.
Cathedral City has been used as a filming location for movies such as The Big Lebowski, Just My Luck and What Happens in Vegas. These all had scenes filmed in the downtown area. Cathedral City is also known for its quality golf courses and resorts.
A model airplane airfield (MODAA) was established by Dr. James S. McDonnell in 1943 on land donated by Robert Alexander "Bob" Wyman, the founder of Bob's Big Boy restaurant chain and at the time also a member of the United States House of Representatives.
The runway was lengthened to 1000 feet in 1946. In October 1947 Jet Magazine featured Boeing/Douglas-built T-33 aircraft as a Cathedral City Airport attraction for aviation enthusiasts.
Cathedral City Weather
The average high temperatures during a normal year in Cathedral City are in the mid to high 90s for June, July and August with nighttime lows in the low 70s. Temperatures can exceed 100 degrees on some between May and October.
Rainfall is sparse but does occur during much cooler months from November through April with an annual average of 4 inches. Snow has never been recorded in Cathedral City due to its desert climate.
October is the windiest month with an average daily high temperature of 86 degrees and a nighttime low of 65. Cathedral City enjoys a dry season in the winter months that brings crisp days with clear skies during daylight hours.
Rain has been recorded only 5 times between November to April though one or two days might have measurable dew which is considered "drizzle." The highest officially recorded temperature here was 118 degrees Fahrenheit (47.8 Celsius) on June 29, 1980. Monthly humidity averages range from 38% for October to 78% for July; annual relative humidity amounts to 46%.
Visibility can be exceptional even though average humidity is highest in July and August, yearly averages still range from 54% to 83%. During the winter months when there are no clouds or fog, Cathedral City's climate becomes drier and clearer due to low moisture levels at lower altitudes which permits more sunlight to pass through from higher levels.
Satellite photos show desert air mass surrounding the entire Coachella Valley at this time of year. Weather fronts seldom penetrate past the nearby San Jacinto Mountains (which can block humid air from the Pacific Ocean) while snowfall is virtually non-existent in Cathedral City – even though it falls during the colder months in Palm Springs, which is only 6 miles north.
In Cathedral City most precipitation falls between October and April – when there are no clouds to obscure passage beyond 10,000 feet.
During drier periods from May through September, average yearly temperatures range from 90 degrees in May to 92 degrees in September, but summer heat waves can push daytime high temperatures above 110 degrees (43.3 Celsius) for one or two days.
Humidity levels during the summer months average 52%-79% but can rise above 90% on very hot and still days between June and September. These can be interspersed with afternoon thunderstorms, especially in July and August when seasonal monsoon rain is at its peak.
Fishing is excellent here from late May through October due to a combination of colder water temperatures as winter approaches along with an abundance of bait fish like minnows, threadfins and sardines.
Many residents consider this their favorite season because the fishing is so good. while others enjoy golfing all year round if it were not for the excessive thatch that accumulates on the greens in the summer months.
Places of Interest in Cathedral City
Cathedral City Public Library is the perfect place to relax and read a book. The ultra-modern library offers a host of exhibits, historical collections, art, computer services and books from around the world.
Coachella Cultural Center is a great place for families with kids interested in Native American culture. The Center also displays interesting historic information about the area's history.
La Quinta Historical Society is the local history museum. It has information and artifacts from Palm Springs, Cathedral City and Rancho Mirage
More On This Desert Oasis
The population of Cathedral City has increased more than three hundred percent since 1990, at a rate of roughly thirty-five thousand people per year. This rapid increase is the result of both an increasing birthrate and migration into the city from other areas in Southern California—most notably Los Angeles County—as well as Northern California.
According to the United States Census Bureau, Cathedral City has a total area of 29.4 square miles with 26.9 square miles [86%] being land and 2.5 sq mi [14%] water. Residents here enjoy boating, swimming, fishing, and other aquatic recreational activities on the San Jacinto River which runs through downtown Cathedral City.
Despite its relatively small size by California standards, Cathedral City's population growth rate outpaces that of even neighboring Palm Springs.
As is typical with many southern California cities, the vast majority (98%) of residents in Cathedral City live in an urban environment —either in an apartment building or other multi-residential area. Less than one percent live in single-family homes, and even fewer still—roughly half a percent—live on farms or ranches.
The development of Cathedral City, CA is directly tied to the success of golf courses in the Coachella Valley. The area was originally named Palm Village and prospered when wealthy people from Los Angeles needed a place to rest during their long train ride through the valley.

Search for: Search for: How far is Palm Springs from Cathedral City?"
A: "The distance between Palm Springs and Cathedral City is just about 7 miles by car"
Back to Top

Search for: Why is Cathedral City called Cathedral City?"
A: "Cathedral City is the second largest in population in the Coachella Valley today. The town's name comes from "Cathedral Canyon" and was named in 1850 because the area's canyons resembled the interior of a grand cathedral. The population of Cathedral City then was almost non existent as it was mainly a stagecoach stop. "
Back to Top

Search for: Is Cathedral City Safe?"
A: "The chance of becoming a victim of either violent or property crime in Cathedral City is 1 in 62. Based on FBI crime data, Cathedral City is not one of the safest communities in America. "
Back to Top

Search for: How far is Cathedral from Los Angeles?"
A: "Just over 100 miles by car, The distance between Cathedral City and Los Angeles is just over 100 miles."
Back to Top

Search for: What is the population of Cathedral City?"
A: "54,902 (2018)
Cathedral City/Population"
Back to Top