Indian Wells Overview
Indian Wells is located in the southeastern section of Riverside County. The city is bordered by Cathedral City to the north, Palm Desert on the south, Indio to the west, and Rancho Mirage to the east.
Sorry we are experiencing system issues. Please try again.
It has a total area of 5.8 square miles. Indian Wells is part of the Coachella Valley and lies at an elevation of 348 feet (106 m) below sea level.
The city has several resorts and an abundance of attractions that make for an upscale, interesting life.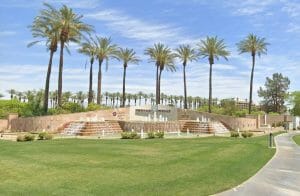 The Indian Wells lifestyle is characterized by fabulous weather, luxurious homes and clothing, and elite entertainment. Residents here are either wealthy or striving to be.
Indian Wells has attracted some of the most famous people on earth. It is or has been home to celebrities such as Elle Macpherson, Mark Wahlberg, Pete Sampras, Andre Agassi, Rajeev Ram, Phil Mickelson, and Tiger Woods.
The Indian Wells lifestyle is not just for the rich and famous – anyone can enjoy it!
Your Indian Wells Area Real Estate Agent
If you're in the market to purchase a home or condo in the Indian Wells area, contact me and let me help you navigate the various neighborhoods and HOAs in this desert city. I'll help you find the perfect Coachella Valley oasis.
Interested in selling your home or condo? Checkout our page on how to get a free home evaluation. Find out more about me and the Palm Springs area, visit my blog, or contact me directly.
Q: Is Indian Wells a good place to live?
Q: Why is it called Indian Wells?
Q: Where in California is Indian Wells?
Q: How far is Indian Wells from Palm Springs?
Q: Where is Indian Wells USA?
More On This Desert Oasis
Indian Wells is an ideal destination for affluent retirees as well as young families with children. The city has exceptional education for children at all levels and has nearby college campuses nearby. These include the University of California Riverside and desert community colleges like Coachella Valley University or College of the Desert.
Home to the world-class Indian Wells Tennis Garden, Indian Wells is one of the smallest cities population-wise in the Coachella Valley.
However, what it lacks in population it makes up for in amenities and activities. And the Indian Wells real estate market is sure to impress even the most discerning buyers.
Desert Tennis!
The BNP Paribas Open tennis tournament is one of the biggest draws to this amazing city, drawing over 450,000 people to watch the best players in tennis vie for one of the biggest purses in the sport. And for those who don't want to hit the courts, the world-class golf courses will satisfy the most discerning player.
The Indian Wells Tennis Garden was built in 2006 and covers 100 acres. The facilities include sculptures from world-renowned artists such as Pablo Picasso, Henry Moore and Roy Lichtenstein. There are 16 indoor courts with a tournament tennis stadium hosting up to 5,000 people including one specially designed for wheelchair users.
Golfing Indian Wells Style
The River at Indian Wells is a 19-hole championship golf course that was designed by prominent golf architect, Tom Fazio. It covers 370 acres and has a practice area with seven large putting greens and five chipping areas. There are also several teeing areas to hit from on the back side.
This course plays over rolling hills created by natural drainage patterns as well as the waterway running through it called "the river." The 18th green offers a dramatic view of natural rock outcroppings creating an interesting setting for that dramatic finish.
Once you enter the Racquet Club, you will be greeted by an ocean of greens. It's the perfect place for families to spend time together. There are plenty of tennis courts to choose from and this club features a 12-court DecoTurf surface which has night lighting for play until midnight or later.
Indian Wells Golf Resort spans 640 acres and was named one of the top 100 courses in California by Golf Digest magazine. The course was designed by world-renowned golf architect, Ted Robinson Jr. and it has many challenging par 4s and 5s that fit the desert climate perfectly.
The Indian Wells Golf Resort is home to the Stadium Course which hosts two annual PGA Tour events: a) The Bob Hope Chrysler Classic and b) The Penn Mutual Life Insurance Classic (formerly known as the American Express Championship).
Desert Willow Golf Resort is an 18 hole championship course that offers both private individuals and groups of players the experience of playing on a private golf course with professional staff at their disposal.

Search for: Is Indian Wells a good place to live?
A: "Living in Indian Wells offers residents a sparse suburban feel and most residents own their homes. In Indian Wells there are a lot of restaurants, coffee shops, and parks. Many retirees live in Indian Wells and residents tend to lean conservative. The public schools in Indian Wells are highly rated."
Back to Top

Search for: Why is it called Indian Wells?
A:"The City of Indian Wells was named for an old Cahuilla Indian water hole that was a major water source for local area tribes. The well appears to have been built around 1850 and shows up on early state and railroad maps."
Back to Top

Search for: Where in California is Indian Wells?
A: "Indian Wells is a city in Riverside County, California, in the Coachella Valley (Palm Springs area), in between Palm Desert and La Quinta."
Back to Top

Search for: How far is Indian Wells from Palm Springs?
A: "14 miles.
The distance between Palm Springs and Indian Wells is 14 miles. The road distance is 19.4 miles. Dec 14, 2020"
Back to Top

Search for: Where is Indian Wells USA?
A: "Indian Wells is a city in Riverside County, California, in the Coachella Valley. Incorporated in 1967, it lies in between the cities of Palm Desert and La Quinta."
Back to Top
Places of Interest in Indian Wells
Two restaurants and retail shops serving local artisan goods are located onsite as well as a pro shop offering everything you need for your next trip to the court or around town.
The Indian Wells Country Club was completed in 1968 and covers more than 1,000 acres.
This club is considered to be one of the best public golf courses with four sets of tees and a mile long lake that winds its way around the entire course.
There are also two separate 18 hole championship courses; Moonridge designed by Ted Robinson Jr. and La Quinta which was redesigned by Tom Fazio to make it longer but not necessarily harder. Most people who go to this club like to play Moonridge and La Quinta.
Indian Wells Weather
The weather in Indian Wells is very hot and dry during the summer months. The summer starts in June and lasts until September or October. Summer months see temperatures of 100 degrees during the day, but it can even reach 120. The hottest temperature ever recorded is 127 degrees.
When temperatures drop in the fall, ocean winds pick up with gusts over 50 miles per hour which can last for days. It snows almost every winter in Indian Wells, but the snow doesn't stay around very long. Typically, January and February are the coldest months.