Andalusia Neighborhood, a Spanish Style in La Quinta
The architectural environment is one of the Spanish accent of the southern region of Italy throughout this new luxury golfing community. The dramatic guardhouse and the spectacular Racquet Club & Fitness Center shows the heritage of the old days with the beautiful arches, sunny courtyards, cool patios, and painted tiles.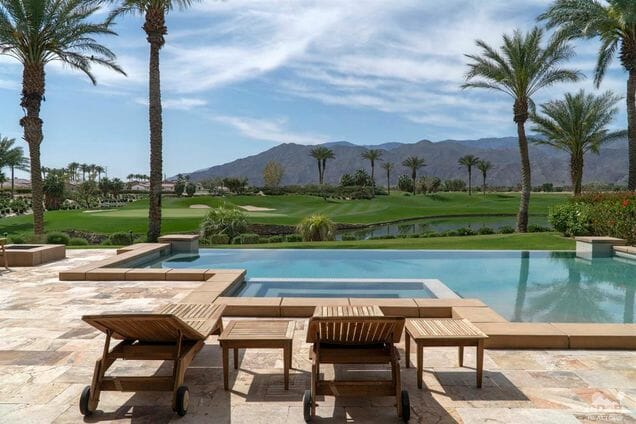 Private homes in the Andalusia La Quinta community all have the same type of architectural theme and include wide views of the fairway and sparkling lakes that line the private championship golf course. This course is one of two planned for the Andalusia at Coral Mountain.
You will find more than 80,000 lush vegetation types including mature trees, flowers, and lush plants throughout the Andalusia La Quinta East Course championship golf course landscape. Hundreds of the most beautiful date palms sway in the breezes here.
Olive trees are grown to be an honor to the Spanish namesake the club holds. A monumental rock waterfall is the welcome site for players as they reach the 18th green. Five sets of tees are available and allow play from 7,521 yards from the back tees, to the 5,489 yards towards the forward tees, will fit within the experience level of any golfer.
Only the most dedicated golfer will appreciate the joys of playing this exquisite course. The homes here at Andalusia will be the most breathtaking you will experience in this size and price range. All the amenities you need are available and the course will provide you with an excellent round of golf every time you play.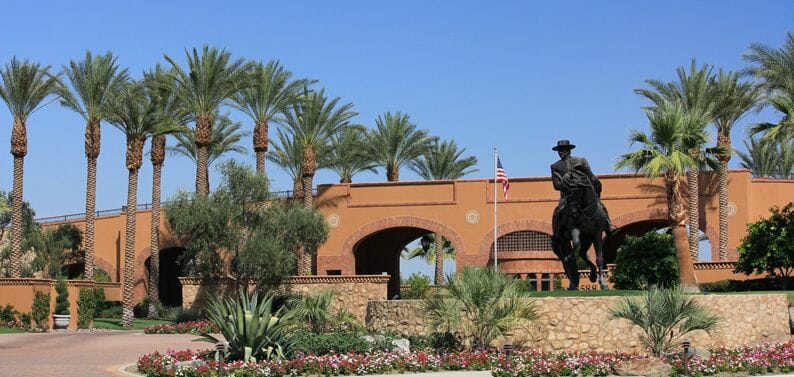 There are eighteen unique combination levels of elevation and plans that come with the homes offered here. Each detail and level of quality is only found in the most finest homes of the La Quinta Luxury Real Estate that exists here.
Three to four bedroom homes are available, ranging in size from 2,900 square feet to 5,000 square feet of the most sophisticated living area you will ever experience. Amenities included are open great rooms and 12 foot sliding glass doors that show just how beautiful this golf course really is.
The Andalusia La Quinta Real Estate Market
Home to the exclusive Andalusia La Quinta, the real estate market in this exclusive city offers eighteen unique combinations of elevation and plans, finished with a fine level of luxury. Homes range in price from about $1 million upwards to $2.2 million.
More About Me, Your Palm Springs Area Real Estate Agent
If you're looking for a home in Andalusia La Quinta, contact me and I'll help you find the perfect oasis to call your own.
And if you're interested in selling your home or condo in the Palm Springs area, visit my site for a free home evaluation.
Read my blog, to find a useful information on the 7 cities in the Palm Springs area. 
Sorry we are experiencing system issues. Please try again.
Checkout our frequently asked questions about Andalusia La Quinta Neighborhood
Q: Is La Quinta a safe place to live?
A: La Quinta Makes Top 50 Safest Cities in California, according to new report. In the population of almost 42,000 residents in La Quinta, the report states there's about 1.6 violent crimes per 1,000 people.
Q: How far is La Quinta from Palm Springs?
A: There are 17.75 miles from Palm Springs to La Quinta in southeast direction and 25 miles (40.23 kilometers) by car, following the I-10 E route. Palm Springs and La Quinta are 33 minutes far apart, if you drive non-stop .
Q: What is La Quinta known for?
A: The city is known for arts and culture, natural beauty, and an Old World atmosphere with a distinctly 21st century focus on health and wellness. West golf complex in La Quinta. La Quinta has more than 212 acres of parkland area.
Q: What is there to do in La Quinta this weekend?
A: Things to Do in La Quinta are Marvyn's Magic Theater, Old Town La Quinta, La Quinta Museum, St. Francis of Assisi Catholic Church, Lake Cahuilla Recreation Area, La Quinta Library.
Q: What are the best Places in La Quinta?
A: CVWD receives water from the Colorado River through the 123-mile (198 km) Coachella Branch of the All American Canal. Water in the canal flows entirely by gravity, dropping in elevation an average of one foot per mile. In the Coachella Valley, Colorado River water is used primarily for agricultural irrigation.
Q: How far is Joshua Tree from La Quinta?
A: The distance between La Quinta and Joshua Tree is 33 miles. The road distance is 53.8 miles.
Q: How hot does it get in La Quinta CA?
A: In La Quinta, the summers are sweltering and arid, the winters are cool, and it is mostly clear year round. Over the course of the year, the temperature typically varies from 42°F to 106°F and is rarely below 34°F or above 112°F.
Q: How many golf courses are in La Quinta?
A: There are 24 golf courses in La Quinta, California and 1 is a municipal course. There are also another 76 golf courses within 20 miles of La Quinta, including 31 public, 5 municipal and 40 private courses. The oldest course in the La Quinta area is the Motorcoach Country Club.
Q: Can you swim in Lake La Quinta?
A: There are 55 campsites with hookups, 10 equestrian camping sites and 35 dry camping sites. The park offers picnic areas, showers, fire rings, barbecues and horse corrals. There is also a swimming pool, and volleyball, pickleball and bocce ball courts.
Q: Is La Quinta windy?
A: Wind in La Quinta is usually calm. The windiest month is May, followed by April and June.
Q: Does La Quinta have snow?
A: La Quinta, California gets 3 inches of rain, on average, per year. The US average is 38 inches of rain per year. La Quinta averages 0 inches of
snow per year. The US average is 28 inches of snow per year.
Q: How far is La Quinta from San Diego?
A: Distance between San Diego and La Quinta is 132 kilometers (82 miles). Driving distance from San Diego to La Quinta is 209 kilometers (130
miles).